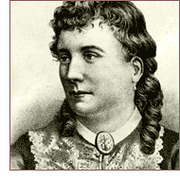 Mary Elizabeth Braddon
(1835–1915)
Algemene kennis
Gangbare naam

Officiële naam

Pseudoniemen en naamsvarianten

Geboortedatum

Overlijdensdatum

Graflocatie

Geslacht

Nationaliteit

Geboorteplaats

Plaats van overlijden

Woonplaatsen

Opleiding

Beroepen

Relaties

Korte biografie

Mary Elizabeth Braddon was born in London and her parents separated when she was five years old. Mary worked as an actress to support herself and her mother. In 1860, she met John Maxwell, a publisher, and began living with him despite the fact that he was married with five children; his wife was in an asylum in Ireland. Mary acted as a stepmother to the children until 1874, when Maxwell's wife died and they were able to marry. They had six children together, including the future writer William Babington (W.B.) Maxwell. Mary was an extremely prolific writer, producing more than 80 novels and numerous short stories. In 1866, she founded Belgravia, a lavishly illustrated magazine that published serialized novels, poems, travel narratives, and essays on fashion, history and science.
Statistieken
Werken

130

Ook door

64

Leden

4,375

Populariteit

#5,733

Waardering

3.7
Besprekingen

145

ISBNs

496

Talen

7

Favoriet

25

Over

2

Verbindingen

381