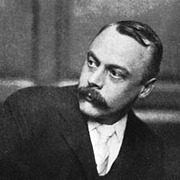 Kenneth Grahame
(1859–1932)
Algemene kennis
Geboortedatum

Overlijdensdatum

Graflocatie

Geslacht

Nationaliteit

Land (voor op de kaart)

Geboorteplaats

Plaats van overlijden

Woonplaatsen

Opleiding

Beroepen

Relaties

Organisaties

Korte biografie

Married to Elspeth Grahame, with one son, Alistair Graham.


British author and banker. Educated at St. Edward's School, Oxford. He was orphaned at an early age and brought up by his grandmother. His family unable to afford the cost of university he took up a career with the Bank of England where he stayed until ill health caused his retirement, in his late forties, in 1907. During the banking days he wrote (and had published) essays and poems in his spare time. Among his books were Pagan Papers (1893), The Golden Age (1895), Dream Days (1898) and then… The Wind in the Willows (1908) which started life as a bedtime serial tale for his son Alastair.
Statistieken
Werken

262

Ook door

74

Leden

29,436

Populariteit

#681

Waardering

4.1
Besprekingen

413

ISBNs

1,596

Talen

29

Favoriet

29

Verbindingen

860