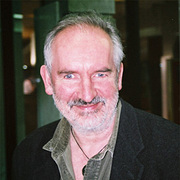 Algemene kennis
Gangbare naam

Geboortedatum

Geslacht

Nationaliteit

Land (voor op de kaart)

Geboorteplaats

Woonplaatsen

Opleiding

Beroepen

Korte biografie

Alan Lee is an English book illustrator and movie conceptual designer. He was born on 20 August 1947 in Middlesex, England and studied at the Ealing School of Art, specialising in illustration, and has illustrated a wide range of books, including Faeries (with Brian Froud), The Mabinogion, Castles, Merlin Dreams, The Black Ships of Troy and The Wanderings of Oysseus.

He is best known for his award winning work on The Lord of The Rings by J.R.R. Tolkien - having done illustration work for both the books and the Peter Jackson directed movies. As of 2011, he is working on The Hobbit movies, based on Tolkien's book, again directed by Peter Jackson.

Tolkien's work has inspired him ever since he read his books at an early age. Alan Lee is also inspired by nature, myth, legends and Folklore.

Alan Lee draws a lot of inspiration from nature around in which he lives - he lives and works on the edge of Dartmoor, in Devon, England.
Statistieken
Werken

27

Ook door

61

Leden

3,519

Populariteit

#7,218

Waardering

4.3
Besprekingen

37

ISBNs

116

Talen

10

Favoriet

2

Verbindingen

7