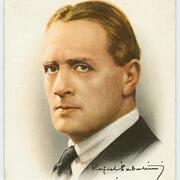 Rafael Sabatini
(1875–1950)
Algemene kennis
Gangbare naam

Geboortedatum

Overlijdensdatum

Graflocatie

Geslacht

Nationaliteit

Geboorteplaats

Plaats van overlijden

Woonplaatsen

Iesi, Italy
Lancashire, England, UK
Porto, Portugal
Zug, Switzerland
Liverpool, England, UK
London, England, UK (

toon alle

8)
Hay-on-Wye, Powys, Wales, UK
Adelboden, Switzerland

Beroepen

Relaties

Korte biografie

"He was born with a gift of laughter and a sense that the world was mad," describes Sabatini's most famous character, Scaramouche, and perhaps the author himself. His works were an international success in his own time and are still popular. Best known are his swashbucklers -- many of whom have been made into films -- and his books about Cesare Borgia.
Statistieken
Werken

151

Ook door

13

Leden

6,793

Populariteit

#3,598

Waardering

4.0
Besprekingen

184

ISBNs

919

Talen

13

Favoriet

33

Verbindingen

292