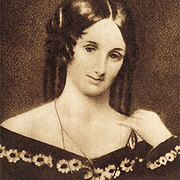 Mary Wollstonecraft Shelley
(1797–1851)
Algemene kennis
Officiële naam

Pseudoniemen en naamsvarianten

Geboortedatum

Overlijdensdatum

Graflocatie

Geslacht

Nationaliteit

Land (voor op de kaart)

Geboorteplaats

Plaats van overlijden

Oorzaak van overlijden

Woonplaatsen

Opleiding

Beroepen

Relaties

Prijzen en onderscheidingen

Korte biografie

Mary Wollstonecraft Shelley was born in London, the daughter of two major English intellectuals and writers, Mary Wollstonecraft and her husband William Godwin. She fell in love with Percy Bysshe Shelley, a married man and father, and scandalized society by eloping with him in 1814. Two years later, they were married and in 1818, she published her most famous work, her first novel: Frankenstein or The Modern Prometheus. She also wrote several other novels, including Valperga (1823) and The Last Man (1826), as well as numerous novellas, short stories, poems, plays, essays, and articles for periodicals of the day, travel books, and a biography of her husband. At the time of Shelley's death in 1822, she was regarded as a major novelist married to a minor poet, but she spent 30 years promoting his work to help him achieve lasting fame.
Statistieken
Werken

477

Ook door

105

Leden

58,566

Populariteit

#246

Waardering

3.8
Besprekingen

1,032

ISBNs

2,322

Talen

38

Favoriet

83

Verbindingen

1,793