Other People's Libraries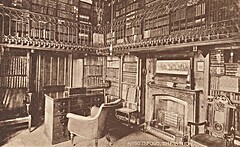 The personal libraries of famous (or infamous) readers. This group is for The Living. Collections of books for readers who've passed to the library where there will be no late fees can be discussed and explored with the Legacy Libraries group.

This is *NOT* a cataloging group, only a bit of bibliophilic voyeurism. All living readers (famous or not) are encouraged to enter their own libraries. Links and information collected here may be used in future Legacy Library projects.
Onderwerp

Onderwerp

Berichten

Nieuwste bericht

Robert De Niro

1 ongelezen

/ 1

benjclark

,

mei

23
What Do Famous People's Bookshelves Reveal?

5 ongelezen

/ 5

Kuiperdolin

,

april

13
Beto O'Rourke

1 ongelezen

/ 1

benjclark

,

november

2021
Michael Chabon

1 ongelezen

/ 1

benjclark

,

november

2021
Ted Gioia

3 ongelezen

/ 3

elenchus

,

augustus

2021
Lockdown Book Detective

1 ongelezen

/ 1

benjclark

,

juli

2021
Jed Bartlet

2 ongelezen

/ 2

JBD1

,

juni

2021
Terry Gross

2 ongelezen

/ 2

allthingsgo

,

mei

2021
Future Library

6 ongelezen

/ 6

Cynfelyn

,

mei

2021
John Porcellino

1 ongelezen

/ 1

benjclark

,

mei

2021
list

2 ongelezen

/ 2

benjclark

,

maart

2021
Matt Bell

1 ongelezen

/ 1

benjclark

,

juli

2020
Alan Jacobs

4 ongelezen

/ 4

benjclark

,

juli

2020
Nick Cave

2 ongelezen

/ 2

varielle

,

juni

2020
Carl Malamud

1 ongelezen

/ 1

benjclark

,

april

2020
Elizabeth Kadetsky

1 ongelezen

/ 1

benjclark

,

april

2020
Dita von Teese

2 ongelezen

/ 2

benjclark

,

maart

2020
Haruki Murakami

1 ongelezen

/ 1

benjclark

,

maart

2020
David Abrams

1 ongelezen

/ 1

benjclark

,

januari

2020
President Obama's summer reading list

12 ongelezen

/ 12

lilithcat

,

december

2019
Gary Shteyngart

1 ongelezen

/ 1

benjclark

,

december

2019
Neil Gaiman's

12 ongelezen

/ 12

benjclark

,

augustus

2019
Donald Trump

16 ongelezen

/ 16

Nicole_VanK

,

juli

2019
Salmon Rushdie

3 ongelezen

/ 3

benjclark

,

juni

2019
Valerie Nieman

1 ongelezen

/ 1

benjclark

,

mei

2019
Jennifer Spiegel's books

1 ongelezen

/ 1

benjclark

,

maart

2019
Karl Lagerfeld's book perfume & library

4 ongelezen

/ 4

varielle

,

februari

2019
Reader's Digest Condensed Books, List of UK releases

1 ongelezen

/ 1

happychris

,

december

2018
Austin Kleon

1 ongelezen

/ 1

benjclark

,

november

2018
Sloane Crosley

1 ongelezen

/ 1

benjclark

,

augustus

2018
Moby

1 ongelezen

/ 1

benjclark

,

juni

2018
Garrison Keillor

1 ongelezen

/ 1

varielle

,

mei

2018
Michael A Ferro

2 ongelezen

/ 2

elenchus

,

mei

2018
Margaret Atwood

1 ongelezen

/ 1

benjclark

,

juli

2017
Noam Chomsky?

8 ongelezen

/ 8

MegEynons

,

mei

2017
Pat Conroy on his reading

3 ongelezen

/ 3

benjclark

,

februari

2017
John Domini's Library

1 ongelezen

/ 1

benjclark

,

september

2016
Annie Proulx

1 ongelezen

/ 1

benjclark

,

juli

2016
Nick Basbanes' library

4 ongelezen

/ 4

JaneAustenNut

,

april

2016
Alyson Foster

1 ongelezen

/ 1

benjclark

,

maart

2016
Mindy Kaling

1 ongelezen

/ 1

benjclark

,

februari

2016
Alison Bechdel's desert island top 10

1 ongelezen

/ 1

benjclark

,

februari

2016
Handwritten faves by several

1 ongelezen

/ 1

benjclark

,

februari

2016
"Every book has a story...."

4 ongelezen

/ 4

Taphophile13

,

januari

2016
Ursula K. LeGuin

1 ongelezen

/ 1

benjclark

,

januari

2016
On the shelves of top designers

1 ongelezen

/ 1

benjclark

,

december

2015
Aldrich Ames

1 ongelezen

/ 1

benjclark

,

september

2015
Matthew Neill Null

1 ongelezen

/ 1

benjclark

,

augustus

2015
Rachel Green from Friends?

1 ongelezen

/ 1

benjclark

,

augustus

2015
Ta-Nehisi Coates

2 ongelezen

/ 2

elenchus

,

augustus

2015
Don Draper's books

2 ongelezen

/ 2

Katya0133

,

juli

2015
Iggy Pop reads Decline and Fall

2 ongelezen

/ 2

elenchus

,

juli

2015
The Books of Gitmo

6 ongelezen

/ 6

benjclark

,

juni

2015
In a Mother's Library

2 ongelezen

/ 2

benjclark

,

juni

2015
Neil Degrasse Tyson

1 ongelezen

/ 1

benjclark

,

december

2014
Keanu Reeves' library

5 ongelezen

/ 5

PhaedraB

,

september

2014
Message Board

7 ongelezen

/ 7

varielle

,

augustus

2014
Norman Mailer's Brooklyn Apartment

1 ongelezen

/ 1

immaculatechaos

,

januari

2014
The Queen Needs You

1 ongelezen

/ 1

benjclark

,

juli

2013
The books of Mad Men

1 ongelezen

/ 1

benjclark

,

april

2013
Bernie Madoff's Books

5 ongelezen

/ 5

benjclark

,

februari

2013
Nigella Lawson's Library

9 ongelezen

/ 9

PhaedraB

,

september

2012
Books of Boardwalk Empire

1 ongelezen

/ 1

benjclark

,

juni

2012
flavorwire's look at the libararies of authors

3 ongelezen

/ 3

benjclark

,

december

2011
Mary Roach

1 ongelezen

/ 1

benjclark

,

november

2011
Christopher Hitchens library

2 ongelezen

/ 2

benjclark

,

oktober

2011
Diane Keaton's Library at Home

5 ongelezen

/ 5

PhaedraB

,

augustus

2011
The President's summer reading

6 ongelezen

/ 6

benjclark

,

augustus

2011
Bernie Madoff's Books

1 ongelezen

/ 1

benjclark

,

juli

2011
Avid Reader's Shelves

2 ongelezen

/ 2

2wonderY

,

juli

2011
Ted Kaczynski - Unabomber Auction

3 ongelezen

/ 3

benjclark

,

mei

2011
Steven Soderbergh's reading list

1 ongelezen

/ 1

Shortride

,

april

2011
Donald Judd library

5 ongelezen

/ 5

Katya0133

,

april

2011
Roberto Bolano's stolen books

1 ongelezen

/ 1

benjclark

,

maart

2011
Stacked Up

1 ongelezen

/ 1

benjclark

,

maart

2011
Adam Savage

1 ongelezen

/ 1

BOB81

,

maart

2011
Qaddafi's reading list

8 ongelezen

/ 8

Muscogulus

,

maart

2011
James Franco's Books

7 ongelezen

/ 7

katkat50

,

maart

2011
Bruce Sterling - steampunk pioneer

1 ongelezen

/ 1

benjclark

,

maart

2011
Alberto Manguel

1 ongelezen

/ 1

benjclark

,

maart

2011
Art Garfunkel's reading since 1968

2 ongelezen

/ 2

varielle

,

maart

2011
Jay Walker, priceline.com founder

4 ongelezen

/ 4

varielle

,

maart

2011
Nicholas Basbanes gives tour of his library

1 ongelezen

/ 1

benjclark

,

maart

2011
This is a feature balloon