I Love Musicals!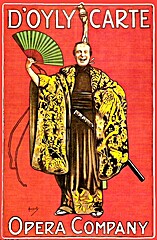 Deze groep is officieel gaan sluimeren. Zo gaat dat.
Als je deze groep wilt laten herleven, of een nieuwe groep maken over het zelfde onderwerp ga naar deze pagina.
A group for discussing musical comedy, operetta and so forth. West Side Story? Pipin? Anything Goes? Iolanthe? The Lion King? The Book of Mormon?
Onderwerp

Onderwerp

Berichten

Nieuwste bericht

new book

1 ongelezen

/ 1

suitable1

,

februari

2015
What a Straight Man's Favorite Musical Says About Him

2 ongelezen

/ 2

dukedom_enough

,

februari

2015
Stephen Schwartz?

4 ongelezen

/ 4

reconditereader

,

november

2014
Guys and Dolls?

11 ongelezen

/ 11

torontoc

,

november

2014
Overrated musicals?

31 ongelezen

/ 31

abbottthomas

,

september

2014
Which musicals are you looking forward to?

4 ongelezen

/ 4

MDGentleReader

,

april

2014
Sound of Music

12 ongelezen

/ 12

LShelby

,

maart

2014
The Musical of Musicals

2 ongelezen

/ 2

suitable1

,

maart

2014
Welcome! Your favorite musicals

66 ongelezen

/ 66

suitable1

,

maart

2014
American Film Institute's Greatest Movie Musicals--How many have you seen?

5 ongelezen

/ 5

rgdoz

,

mei

2013
From film to stage

2 ongelezen

/ 2

Jargoneer

,

augustus

2012
Follies

1 ongelezen

/ 1

theaelizabet

,

januari

2012
This is a feature balloon