Purely Programmers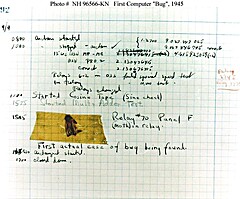 Deze groep is officieel gaan sluimeren. Zo gaat dat.
Als je deze groep wilt laten herleven, of een nieuwe groep maken over het zelfde onderwerp ga naar deze pagina.
A group for programmers, software developers and those interested in computer languages. Or just those who have books on the subject.
Onderwerp

Onderwerp

Berichten

Nieuwste bericht

Sorting through programming books

6 ongelezen

/ 6

kiparsky

,

mei

2020
Recommendations on books on Parsing Techniques and Context-Free Languages

6 ongelezen

/ 6

SamHobbs

,

augustus

2017
I'm looking for a new language

21 ongelezen

/ 21

SamHobbs

,

augustus

2017
Reverse engineering algorithms?

6 ongelezen

/ 6

timspalding

,

augustus

2015
Most Useful Programming Languages

44 ongelezen

/ 44

vy0123

,

december

2013
Ruby books

8 ongelezen

/ 8

crisafugate

,

mei

2013
Which LISP?

19 ongelezen

/ 19

crisafugate

,

mei

2013
Not quite believing him...

3 ongelezen

/ 3

dukedom_enough

,

februari

2012
beautiful bug

4 ongelezen

/ 4

PaulFoley

,

februari

2012
Keeping track of on/offs without index-only tables?

3 ongelezen

/ 3

PaulFoley

,

september

2011
Any good books on data structures

5 ongelezen

/ 5

bvs

,

september

2011
Starting to lay out a web app and need to decide on language

11 ongelezen

/ 11

frogman2

,

maart

2011
LibraryThing Developer Profile suggestion

2 ongelezen

/ 2

AbeerHussain

,

januari

2011
Made my day

4 ongelezen

/ 4

Amtep

,

mei

2010
history of computing

10 ongelezen

/ 10

kukulaj

,

april

2010
bathsheba.com is looking for a business manager

3 ongelezen

/ 3

sunny

,

januari

2010
iPhone / iPod touch drone

1 ongelezen

/ 1

sunny

,

januari

2010
Lean Development

5 ongelezen

/ 5

RoboSchro

,

oktober

2009
looking for a good wpf book

1 ongelezen

/ 1

ethanw

,

september

2009
mashups and web services

1 ongelezen

/ 1

Willie_Dynomite

,

september

2009
building a website need advice

2 ongelezen

/ 2

Makis

,

september

2009
Ajax, Web 2.0, and a little .NET?

5 ongelezen

/ 5

Makis

,

september

2009
Most common repeated strings

10 ongelezen

/ 10

Makis

,

augustus

2009
Survey of Programming Languages

7 ongelezen

/ 7

bvs

,

juli

2009
R books

3 ongelezen

/ 3

kevinmcguinness

,

juni

2009
random reading

6 ongelezen

/ 6

MMcM

,

mei

2009
programming interview books

7 ongelezen

/ 7

jrandrews

,

mei

2009
New to coding

7 ongelezen

/ 7

jrandrews

,

mei

2009
Recreational programming!

23 ongelezen

/ 23

timspalding

,

april

2009
A newbie's question

10 ongelezen

/ 10

utoxin

,

februari

2009
My new favorite language

2 ongelezen

/ 2

sarahemmm

,

december

2008
asp.net

3 ongelezen

/ 3

zwoolard

,

november

2008
COBOL vs Teh Governator

5 ongelezen

/ 5

WholeHouseLibrary

,

augustus

2008
LibraryThing 1 / Gmail 0

5 ongelezen

/ 5

timspalding

,

augustus

2008
Help on a book-titles algorithm

16 ongelezen

/ 16

lilithcat

,

juli

2008
Outlook tasks

5 ongelezen

/ 5

mirmir

,

mei

2008
Next programming book

29 ongelezen

/ 29

modalursine

,

januari

2008
Open Source Software for small libraries?

3 ongelezen

/ 3

PaulFoley

,

januari

2008
VBA and SQL book recommendations

3 ongelezen

/ 3

M_Bartley

,

november

2007
Can you donate any technical books to Vanuatu?

1 ongelezen

/ 1

felius

,

oktober

2007
Hierarchical Tags??

3 ongelezen

/ 3

s_givon

,

april

2007
"Auto-tagging" - Take existing tags to tag your books

12 ongelezen

/ 12

QuesterofTruth

,

maart

2007
Interesting uses of the LibraryThing data?

4 ongelezen

/ 4

WorldMaker

,

maart

2007
All time favourite programming book

1 ongelezen

/ 1

tfhank

,

januari

2007
Purely Programmers Message Board

34 ongelezen

/ 34

serbook

,

januari

2007
studying LT members' use of tags

7 ongelezen

/ 7

WhimsyWinx

,

november

2006
A picture for the group page

16 ongelezen

/ 16

felius

,

augustus

2006
This is a feature balloon