Lesbian Bookworms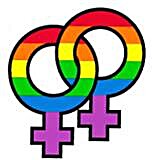 Deze groep is officieel gaan sluimeren. Zo gaat dat.
bekijk deze pagina als je deze groep nieuw leven in wilt blazen, of een nieuwe groep met hetzelfde onderwerp wilt starten.
From the books by Radclyffe Hall to Radclyffe to Harper Bliss to Emily M. Danforth to Melissa Good, and all the other myriad of traditionally published, small publisher published, and self-published novels that include two women falling in love.

All are welcome as long as you read lesbian fiction/non-fiction or wish to learn more about it!
Onderwerp

Onderwerp

Berichten

Nieuwste bericht

"Transwomen + lesbian" romance
13

ongelezen

/ 13

lilithcat

,

februari

2022
Hello, darlings!
44

ongelezen

/ 44

DeniseTittle

,

februari

2022
sci-fi or fantasy lesbian novel rec please!
12

ongelezen

/ 12

Aquila

,

september

2021
Young Adult (YA) Lesbian Fiction
6

ongelezen

/ 6

DanieXJ

,

augustus

2021
Lesbian book blogs?
16

ongelezen

/ 16

DanieXJ

,

juli

2021
What are you reading April 2021?
2

ongelezen

/ 2

DanieXJ

,

mei

2021
What are you reading in March 2021?
7

ongelezen

/ 7

Lexxi

,

maart

2021
Lambda Literary Awards - 2020
22

ongelezen

/ 22

literatefool

,

juli

2020
Stonewall Book Awards
2

ongelezen

/ 2

originalslicey

,

juli

2020
Anyone trying the FF Crossword from Jae
3

ongelezen

/ 3

DanieXJ

,

januari

2020
Anyone trying Lesbian Book Bingo Challenge this year?
11

ongelezen

/ 11

aspirit

,

september

2019
What Are you Reading today?
132

ongelezen

/ 132

Aquila

,

mei

2019
What would you recommend to someone just discovering lesbian or queer fiction?
4

ongelezen

/ 4

DanieXJ

,

mei

2019
What is on your "to be read" list?
1

ongelezen

/ 1

originalslicey

,

april

2019
What are you reading in 2019?
5

ongelezen

/ 5

DanieXJ

,

april

2019
How Many Lesbian Books Have you Read?
11

ongelezen

/ 11

literatefool

,

augustus

2018
Hello out there!
5

ongelezen

/ 5

DanieXJ

,

december

2017
Reading Challenge for 2017
2

ongelezen

/ 2

DanieXJ

,

januari

2017
Radclyffe Provincetown Series
4

ongelezen

/ 4

DanieXJ

,

januari

2017
f/f that deals with rehabilitation after a serious physical injury
3

ongelezen

/ 3

lemontwist

,

mei

2016
Favorite Lesbian Fiction Publisher?
9

ongelezen

/ 9

Lexxi

,

juni

2015
Who's your favorite author of Lesbian works?
13

ongelezen

/ 13

nancyewhite

,

januari

2015
New Alison Bechdel Book Announced
6

ongelezen

/ 6

LucindaLibri

,

januari

2015
Similar books?
3

ongelezen

/ 3

Arizona27

,

juli

2014
I Need A Book...
24

ongelezen

/ 24

pleforge

,

oktober

2013
What's the best lesbian book you read in '12, and why?
5

ongelezen

/ 5

ijustgetbored

,

januari

2013
Lesbian book club
12

ongelezen

/ 12

klepore

,

november

2012
so someone should talk to me. im new to this site. i have questions!!!!
4

ongelezen

/ 4

DanieXJ

,

september

2012
Virtual Book Tour for Sally A. Stephenson's Wildflowers
2

ongelezen

/ 2

DanieXJ

,

augustus

2012
Hi! Is anyone out there
6

ongelezen

/ 6

TinaV95

,

augustus

2012
Book Auction
2

ongelezen

/ 2

7sistersapphist

,

juli

2012
Looking for new reads?
21

ongelezen

/ 21

ehough75

,

mei

2012
Anyone going to hear Winterson read?
1

ongelezen

/ 1

7sistersapphist

,

maart

2012
Where are all the Lesbian bookworms for 2011?
15

ongelezen

/ 15

DanieXJ

,

januari

2012
I read about 5 books at a time Anyone?
3

ongelezen

/ 3

DeniseDeSio

,

januari

2012
What are you reading?
76

ongelezen

/ 76

7sistersapphist

,

januari

2012
RIP, Barbara Grier
1

ongelezen

/ 1

7sistersapphist

,

november

2011
Lesbian Author Suggestions for Library Stock
9

ongelezen

/ 9

sumariotter

,

november

2011
Help a librarian!
1

ongelezen

/ 1

LibrarianMolly

,

oktober

2011
Odd Girl Out (floor plan question)
3

ongelezen

/ 3

fireworkboi

,

augustus

2011
Virginia Woolf
7

ongelezen

/ 7

yesAna

,

augustus

2011
Eyes to the Stars by Lynne Ames
1

ongelezen

/ 1

melsbks

,

juni

2011
Call for Submissions
1

ongelezen

/ 1

SoozunLS

,

april

2011
Leaving a Legacy
1

ongelezen

/ 1

GLCC

,

februari

2011
Lesbian Literature
19

ongelezen

/ 19

chaillet

,

oktober

2010
Review Request: New Order (GLBT Short Stories)
2

ongelezen

/ 2

charmella56

,

oktober

2010
IDAHO
1

ongelezen

/ 1

Booksloth

,

mei

2010
Hello!
28

ongelezen

/ 28

QuiteTheHuman

,

maart

2010
Freakishly Bad Sex Scenes
20

ongelezen

/ 20

QuiteTheHuman

,

maart

2010
Where is everyone
8

ongelezen

/ 8

charmella56

,

februari

2010
HELP! I need recommendations!
11

ongelezen

/ 11

lilithcat

,

januari

2010
Stir-Fry question
3

ongelezen

/ 3

Danneeness

,

augustus

2009
Little Stranger - Sarah Water's latest
3

ongelezen

/ 3

ehough75

,

juli

2009
Pulp Fiction
6

ongelezen

/ 6

Flit

,

mei

2009
contemporary lesbian novel recommendations
2

ongelezen

/ 2

imadelaine

,

december

2008
indie writers
1

ongelezen

/ 1

reademwritem

,

mei

2008
Nightwood and the sentences that never end
2

ongelezen

/ 2

LolaWalser

,

april

2008
India
3

ongelezen

/ 3

Laura_L

,

februari

2008
This is a feature balloon