I Survived the Great Vowel Shift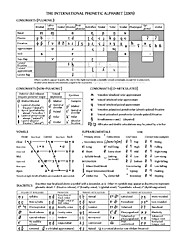 Deze groep is officieel gaan sluimeren. Zo gaat dat.
bekijk deze pagina als je deze groep nieuw leven in wilt blazen, of een nieuwe groep met hetzelfde onderwerp wilt starten.
A group for linguists, armchair linguists, would-be linguists, budding linguists, linguists-in-training, linguistic anthropologists, and/or anybody interested in the scientific study of languages.
Onderwerp

Onderwerp

Berichten

Nieuwste bericht

"The trouble with spoken and written English today" : Literacy, Reading and writing & Standard vs. Non-standard English
3

ongelezen

/ 3

proximity1

,

december

2022
Words/phrases we love, because, well, they feel so good rolling off the tongue
108

ongelezen

/ 108

MyopicBookworm

,

september

2022
Fascinating English -- the etymology of "hap", "haply" and its many derivatives
1

ongelezen

/ 1

proximity1

,

augustus

2022
Sometimes y and w
164

ongelezen

/ 164

Crypto-Willobie

,

maart

2022
Things you learnt about your own language
26

ongelezen

/ 26

Crypto-Willobie

,

februari

2022
Origins of common expressions
3

ongelezen

/ 3

Crypto-Willobie

,

januari

2021
We're undergoing one now
3

ongelezen

/ 3

LizzieD

,

april

2020
Free Webinar: The Oxford English Dictionary and historical text collections: Discovering new words
1

ongelezen

/ 1

Crypto-Willobie

,

juni

2019
Reconstructing the sound of an ancient language
1

ongelezen

/ 1

bluepiano

,

januari

2019
English is a Scandinavian language
28

ongelezen

/ 28

andyl

,

januari

2019
Shibbonymics?
1

ongelezen

/ 1

Crypto-Willobie

,

augustus

2018
Forgetting your mother tongue
3

ongelezen

/ 3

PhaedraB

,

juni

2018
Anybody Heard Of…
3

ongelezen

/ 3

Diane-bpcb

,

november

2017
The Great Language Game
14

ongelezen

/ 14

hearthlit

,

september

2017
language log on the oscars
1

ongelezen

/ 1

Crypto-Willobie

,

februari

2017
Difference between a brogue and a burr?
19

ongelezen

/ 19

PhaedraB

,

januari

2017
IE cognates?
1

ongelezen

/ 1

Crypto-Willobie

,

augustus

2016
The other great shift
4

ongelezen

/ 4

misskate

,

augustus

2016
But You Don't Sound Southern
5

ongelezen

/ 5

MarthaJeanne

,

augustus

2015
"Everything That Starts With 'Al-' In Middle East Is Bad"
42

ongelezen

/ 42

Artymedon

,

augustus

2015
all-the-worlds-languages-traced-back-to-single-african-mother-tongue?
10

ongelezen

/ 10

Crypto-Willobie

,

augustus

2015
question re: swearing in France 1889-1890
38

ongelezen

/ 38

Crypto-Willobie

,

juli

2015
The "Hardest language to learn"
20

ongelezen

/ 20

Muscogulus

,

juli

2015
new publicity for them pesky indo-yerpeens
3

ongelezen

/ 3

Crypto-Willobie

,

februari

2015
Should Languages Be Saved?
30

ongelezen

/ 30

PossMan

,

februari

2015
Skeat's English Dialects
15

ongelezen

/ 15

LMHTWB

,

januari

2015
Average number of languages spoken by the EU population
29

ongelezen

/ 29

CliffordDorset

,

oktober

2014
hear some shifted vowels
7

ongelezen

/ 7

IreneF

,

september

2014
Designed to Confuse Our US Cousins
13

ongelezen

/ 13

bluepiano

,

augustus

2014
Pet peeve phrases IV
84

ongelezen

/ 84

rolandperkins

,

april

2014
What languages sound like
2

ongelezen

/ 2

Crypto-Willobie

,

maart

2014
What is the great vowel shift?
36

ongelezen

/ 36

vpfluke

,

februari

2014
Your Malapropisms Tonight
5

ongelezen

/ 5

defaults

,

januari

2014
"These Fascinating Maps Show The Origin Of Words We Use All The Time"
3

ongelezen

/ 3

guido47

,

januari

2014
Abolish the apostrophe
61

ongelezen

/ 61

Muscogulus

,

oktober

2013
Why do Canadians say "eh" at the end of their sentences?
90

ongelezen

/ 90

Muscogulus

,

september

2013
AT, ON and IN
5

ongelezen

/ 5

signature103

,

juni

2013
Getting closer to the Eurasian super-family
3

ongelezen

/ 3

elenchus

,

mei

2013
Generic pronouns. A proposal.
11

ongelezen

/ 11

luna_lovegood

,

april

2013
Translation of an inscription
4

ongelezen

/ 4

timspalding

,

maart

2013
Latin to Romance... when?
24

ongelezen

/ 24

anglemark

,

januari

2013
Lies! Murder! Lexicography!
11

ongelezen

/ 11

MyopicBookworm

,

december

2012
Grammar terminologies
4

ongelezen

/ 4

JDHomrighausen

,

oktober

2012
Is it important to teach the phoenetic alphabet?
20

ongelezen

/ 20

MyopicBookworm

,

oktober

2012
The 24-letter alphabet?
4

ongelezen

/ 4

Booksloth

,

augustus

2012
One Legged Man
22

ongelezen

/ 22

TimofeyPavlovichPnin

,

augustus

2012
Pet peeve phrases III
209

ongelezen

/ 209

jbbarret

,

augustus

2012
Terst.
22

ongelezen

/ 22

krolik

,

juni

2012
The Lebanon
80

ongelezen

/ 80

CliffordDorset

,

mei

2012
Languages of the World (Wide Web)
21

ongelezen

/ 21

vpfluke

,

december

2011
Question about a certain degree?
7

ongelezen

/ 7

omboy

,

september

2011
Scots language
5

ongelezen

/ 5

ed.pendragon

,

april

2011
Phonetic Clues Hint Language Is Africa-Born
18

ongelezen

/ 18

prosfilaes

,

april

2011
Where did that darn 'h' come from?
19

ongelezen

/ 19

katelisim

,

februari

2011
"Lit" became "Lighted"?
41

ongelezen

/ 41

Muscogulus

,

december

2010
Hanged or Hung-- How would you answer this query?
40

ongelezen

/ 40

Fogies

,

december

2010
Survival of the fittest?
22

ongelezen

/ 22

justjukka

,

november

2010
The Death of Ancient Egyptian
12

ongelezen

/ 12

Cynara

,

november

2010
English Dialects Survey
1

ongelezen

/ 1

anggarrgoon

,

november

2010
Flying a kite
41

ongelezen

/ 41

jjwilson61

,

november

2010
The Language of Dreams
45

ongelezen

/ 45

iblis

,

oktober

2010
Excited for vs. about
17

ongelezen

/ 17

thegreattim

,

september

2010
Earth or the Earth
17

ongelezen

/ 17

pokarekareana

,

juli

2010
Pet peeve phrases II
42

ongelezen

/ 42

ColaBooks

,

juli

2010
Drownding: Why the extra d?
11

ongelezen

/ 11

keristars

,

juli

2010
Me, myself
8

ongelezen

/ 8

msladylib

,

juli

2010
Pet peeve phrases
570

ongelezen

/ 570

jjmcgaffey

,

juli

2010
Where do the prescript/descript wings stand on spelling?
35

ongelezen

/ 35

midikiman

,

juli

2010
McWhorter's "The Story of Human Language"
9

ongelezen

/ 9

MJC1946

,

juni

2010
Which version of BDB is most useful?
2

ongelezen

/ 2

MarthaJeanne

,

juni

2010
Verbalising nouns
31

ongelezen

/ 31

nickphilosophos

,

juni

2010
Tracing the Rise of the Ubiquitous "Yes!" and the Rudely Pumped Fist
18

ongelezen

/ 18

ed.pendragon

,

juni

2010
"As for me"
14

ongelezen

/ 14

Naren559

,

mei

2010
nauseous, momentarily, quote
52

ongelezen

/ 52

Thrin

,

mei

2010
Let's Get Our Priorities Straight
14

ongelezen

/ 14

pinkozcat

,

mei

2010
The K-word (discussion of ethnic slur)
22

ongelezen

/ 22

keigu

,

mei

2010
Use of "we" in Victorian era
7

ongelezen

/ 7

keigu

,

mei

2010
International Phonetic Alphabet for 'my'
2

ongelezen

/ 2

MMcM

,

maart

2010
Introductory texts in different languages, universities
6

ongelezen

/ 6

Petroglyph

,

februari

2010
"As" vs "Like"
60

ongelezen

/ 60

Naren559

,

februari

2010
Is English Grammar Based on Latin Grammar and is that Bad?
32

ongelezen

/ 32

rolandperkins

,

februari

2010
language contact and historical analogies
2

ongelezen

/ 2

erilarlo

,

januari

2010
Visualizing words.
12

ongelezen

/ 12

CliffordDorset

,

januari

2010
A challenge to authors!
32

ongelezen

/ 32

suitable1

,

januari

2010
Languages group
48

ongelezen

/ 48

ambushedbyasnail

,

januari

2010
Farther and further
18

ongelezen

/ 18

erilarlo

,

januari

2010
Sites for Sore Eyes
61

ongelezen

/ 61

UtopianPessimist

,

december

2009
"bored of... "
24

ongelezen

/ 24

atiara

,

december

2009
Future Watching
6

ongelezen

/ 6

CliffordDorset

,

oktober

2009
Here's another.
35

ongelezen

/ 35

MyopicBookworm

,

september

2009
Mrs Yifnif
17

ongelezen

/ 17

mene

,

september

2009
The Great Vowel Shift--Now a movie, opening in a theatre near you
7

ongelezen

/ 7

CliffordDorset

,

september

2009
Here we go, another grammar question.
32

ongelezen

/ 32

jimroberts

,

augustus

2009
Hesitant...The happiest days of my life were those studying linguistics; don't understand focus on p
35

ongelezen

/ 35

grammargoddess

,

augustus

2009
How does a k turn into an s?
5

ongelezen

/ 5

nhlsecord

,

augustus

2009
New One On Me
26

ongelezen

/ 26

msladylib

,

augustus

2009
Women, fire, and dangerous things
7

ongelezen

/ 7

sharder

,

augustus

2009
A joke.
3

ongelezen

/ 3

msladylib

,

augustus

2009
Hyphenated Words
17

ongelezen

/ 17

Muscogulus

,

juli

2009
versing
9

ongelezen

/ 9

Watty

,

juli

2009
This is a feature balloon