Lawyers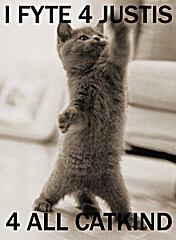 Deze groep is officieel gaan sluimeren. Zo gaat dat.
Als je deze groep wilt laten herleven, of een nieuwe groep maken over het zelfde onderwerp ga naar deze pagina.
A place for lawyers (in the widest possible sense), law students and anyone interested in law books, or books about the law or legal practice.
Onderwerp

Onderwerp

Berichten

Nieuwste bericht

So, I guess that all the lawyers were raptured a couple years ago?

1 ongelezen

/ 1

lawecon

,

december

2012
looking for a book to buy

6 ongelezen

/ 6

legallypuzzled

,

april

2011
Hello!

1 ongelezen

/ 1

EDCLawLibrary

,

maart

2011
Economics knowledge neccessary for legal career?

8 ongelezen

/ 8

lawecon

,

september

2010
Changing Your Name is Now an Easy Thing

5 ongelezen

/ 5

Booksloth

,

januari

2010
Thought Provoking and Entertaining Law Books

14 ongelezen

/ 14

nkm25

,

september

2009
Supreme Court books

9 ongelezen

/ 9

StormRaven

,

april

2009
Dear God How awful lawyers are!

3 ongelezen

/ 3

JimThomson

,

maart

2009
New book on court room oratory

1 ongelezen

/ 1

theodote

,

januari

2009
Potential lawyer

14 ongelezen

/ 14

tom1066

,

maart

2008
Introduction

2 ongelezen

/ 2

legallypuzzled

,

september

2007
The Buffalo Creek Disaster

3 ongelezen

/ 3

legaleagle

,

juni

2007
Lawyers Message Board

2 ongelezen

/ 2

ExVivre

,

juli

2006
This is a feature balloon