Ballantine Adult Fantasy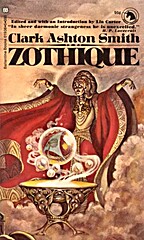 Deze groep is officieel gaan sluimeren. Zo gaat dat.
Als je deze groep wilt laten herleven, of een nieuwe groep maken over het zelfde onderwerp ga naar deze pagina.
Dedicated to the iconic and fascinating series of novels released between 1969 and 1974 thanks to publishers Ian and Betty Ballantine and editor Lin Carter. Without whom a great deal of excellent fantasy might have been forgotten.

There are quite a few collectors of these out there, so I thought a group might be in order.
Onderwerp

Onderwerp

Berichten

Nieuwste bericht

When is Lin Carter's birthday?

4 ongelezen

/ 4

Crypto-Willobie

,

oktober

2020
Competition for the Balllantine Adult Fantasy Series?

11 ongelezen

/ 11

Crypto-Willobie

,

maart

2020
Shelving

8 ongelezen

/ 8

Glacierman

,

september

2019
Betty Ballantine

3 ongelezen

/ 3

elenchus

,

februari

2019
Evangeline Walton's Mabinogion retellings in the BAF series

2 ongelezen

/ 2

Crypto-Willobie

,

mei

2018
BAF links

4 ongelezen

/ 4

Crypto-Willobie

,

april

2018
Other works considered by Carter for inclusion in the series

8 ongelezen

/ 8

bookstopshere

,

maart

2018
Favorite Cover

7 ongelezen

/ 7

Crypto-Willobie

,

februari

2018
Related fantasy series begun or prejected by Lin Carter

3 ongelezen

/ 3

Crypto-Willobie

,

februari

2018
Some Oddities in the Ballantine Adult Fantasy Series

8 ongelezen

/ 8

Crypto-Willobie

,

februari

2018
Swapping?

3 ongelezen

/ 3

wirkman

,

augustus

2007
Intros

13 ongelezen

/ 13

wirkman

,

augustus

2007
This is a feature balloon