INFOCOM (& beyond...)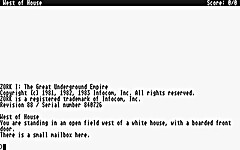 Deze groep is officieel gaan sluimeren. Zo gaat dat.
Als je deze groep wilt laten herleven, of een nieuwe groep maken over het zelfde onderwerp ga naar deze pagina.
A forum for fans of INFOCOM, the computer software company which created many text-based adventures in the 1980's.

Also for discussions on more recent word-driven computer games/experiments, and hypertext theory in relation to these works.
Onderwerp

Onderwerp

Berichten

Nieuwste bericht

You Are Likely To Be Eaten By A Grue...

1 ongelezen

/ 1

abductee

,

september

2007
Article about the IF Comp

1 ongelezen

/ 1

lampbane

,

mei

2007
Phoenix Wright

3 ongelezen

/ 3

lampbane

,

april

2007
Text-based used to promote novel

1 ongelezen

/ 1

lampbane

,

februari

2007
Retro Threads

6 ongelezen

/ 6

abductee

,

oktober

2006
virtual fiction & music

1 ongelezen

/ 1

abductee

,

september

2006
Interactive Fiction (IF): What Is It?

1 ongelezen

/ 1

abductee

,

augustus

2006
Here's a question

2 ongelezen

/ 2

abductee

,

augustus

2006
Towards a Full, Written, Accounting...

2 ongelezen

/ 2

andyl

,

augustus

2006
Legal Status & Copywright Question

3 ongelezen

/ 3

JPB

,

augustus

2006
Infocom Trivia Quiz: How Do You Score?

1 ongelezen

/ 1

abductee

,

augustus

2006
Online Text Games: Discussion

5 ongelezen

/ 5

starfishpaws

,

augustus

2006
Choose Your Own Adventure-ers: LT Group

1 ongelezen

/ 1

abductee

,

augustus

2006
What defines a "book", anyway?

3 ongelezen

/ 3

andyl

,

augustus

2006
This is a feature balloon