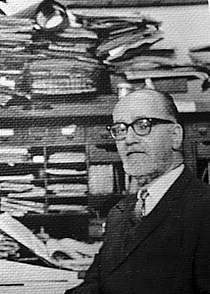 Boeken

562

Verzamelingen

Wolken

Media

Lid sinds

May 14, 2008
Echte naam

Samuel Roth

Over mijn bibliotheek

Roth's library is now housed at Columbia University along with additional archival materials, including "court documents, business records, copyright statements, unpublished typescripts, and letters."

The library has been catalogued to LT using a typed inventory of the collection (organized alphabetically by author).

Over mij

Samuel Roth (1893-1974) was a controversial American writer, publisher and entrepreneur. Further information can be found

here

.
Onze site gebruikt cookies om diensten te leveren, prestaties te verbeteren, voor analyse en (indien je niet ingelogd bent) voor advertenties. Door LibraryThing te gebruiken erken je dat je onze Servicevoorwaarden en Privacybeleid gelezen en begrepen hebt. Je gebruik van de site en diensten is onderhevig aan dit beleid en deze voorwaarden.