Medieval Europe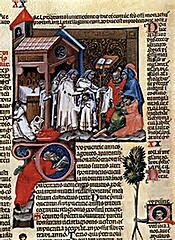 Deze groep is officieel gaan sluimeren. Zo gaat dat.
Als je deze groep wilt laten herleven, of een nieuwe groep maken over het zelfde onderwerp ga naar deze pagina.
A group for those with an interest in medieval history, art, music, literature, philosophy, theology, language, warfare - in short, any aspect of medieval culture.
Onderwerp

Onderwerp

Berichten

Nieuwste bericht

Medieval Europe Reading Plan

17 ongelezen

/ 17

LesMiserables

,

januari

2021
Great Medieval Thinkers

4 ongelezen

/ 4

LesMiserables

,

december

2019
Please recommend some works about the Crusades

46 ongelezen

/ 46

DinadansFriend

,

oktober

2019
Kalamazoo more generally

3 ongelezen

/ 3

Crypto-Willobie

,

mei

2019
Recommendations on Europe 12th century renaissance

5 ongelezen

/ 5

DinadansFriend

,

mei

2018
middle ages vs. medieval

42 ongelezen

/ 42

AndreasJ

,

september

2017
Recommendations on the era of the Merovingians?

5 ongelezen

/ 5

Triumphs_of_History

,

september

2017
Top Five Foundational Books for Medieval Studies

66 ongelezen

/ 66

Tess_W

,

april

2017
Henry I

2 ongelezen

/ 2

DinadansFriend

,

september

2016
Selecting a "Complete Works of Chaucer" Edition

5 ongelezen

/ 5

St._Troy

,

maart

2016
Anyone Going to Kalamazoo? (2015 version)

5 ongelezen

/ 5

cemanuel

,

mei

2015
Today is call'd the feast of Crispian

7 ongelezen

/ 7

DinadansFriend

,

februari

2015
Upcoming University of London online course on Magna Carta

1 ongelezen

/ 1

NLytle

,

december

2014
Lindisfarne

2 ongelezen

/ 2

cemanuel

,

augustus

2014
Univ. of Notre Dame Press 2014 Overstock Sale

2 ongelezen

/ 2

nathanielcampbell

,

juli

2014
Medieval Europe Message Board

67 ongelezen

/ 67

AndreasJ

,

juni

2014
Kalamazoo 2014

5 ongelezen

/ 5

erilarlo

,

mei

2014
Saxon Engeland

51 ongelezen

/ 51

Crypto-Willobie

,

mei

2014
Crusader Kings PC game

1 ongelezen

/ 1

BookMonk

,

april

2014
How do I find someone who might want my medieval library?

11 ongelezen

/ 11

cemanuel

,

april

2014
Treaty of Verdun 843

4 ongelezen

/ 4

DinadansFriend

,

maart

2014
Update on the Crac des Chevaliers

2 ongelezen

/ 2

timspalding

,

maart

2014
"bad" King John

4 ongelezen

/ 4

erilarlo

,

maart

2014
Kalamazoo 2014

4 ongelezen

/ 4

erilarlo

,

februari

2014
One Hundred Books to Read in a Lifetime that are Older than 200 years

1 ongelezen

/ 1

cemanuel

,

februari

2014
Grandsons of Charlemagne

3 ongelezen

/ 3

cemanuel

,

februari

2014
Invitation to a new Dante group

1 ongelezen

/ 1

Mithalogica

,

februari

2014
Titles for priests

9 ongelezen

/ 9

aalatham

,

januari

2014
Boiardo & Ariosto

5 ongelezen

/ 5

Jakujin

,

november

2013
Replies to people who say history isn't important

47 ongelezen

/ 47

DinadansFriend

,

september

2013
World Lit Only by Fire

65 ongelezen

/ 65

cemanuel

,

september

2013
The Anarchy

5 ongelezen

/ 5

Nicole_VanK

,

september

2013
I looking for book about a woman who dream about being lover to medieval king

3 ongelezen

/ 3

ELEkstrom

,

augustus

2013
Bones beneath Leicester Cathedral parking lot confirmed as the remains of Richard III

23 ongelezen

/ 23

nathanielcampbell

,

augustus

2013
Carolingian Renaissance

12 ongelezen

/ 12

anthonywillard

,

juli

2013
Notre Dame Press Overstock Sale

13 ongelezen

/ 13

Mithalogica

,

juli

2013
Medieval Life Links

5 ongelezen

/ 5

cemanuel

,

juli

2013
Medieval Cooking

5 ongelezen

/ 5

hdcclassic

,

juni

2013
Kalamazoo 2013

8 ongelezen

/ 8

erilarlo

,

mei

2013
Treptow's "Vlad III Dracula"

4 ongelezen

/ 4

jcbrunner

,

april

2013
Columbia University Press Sale

1 ongelezen

/ 1

cemanuel

,

maart

2013
A book about the Black Death

3 ongelezen

/ 3

rabornj

,

maart

2013
MAP Conference

2 ongelezen

/ 2

skoobdo

,

maart

2013
The Plantagenets

6 ongelezen

/ 6

oldmysfan

,

december

2012
What are poeple reading in 2011?

24 ongelezen

/ 24

AndreasJ

,

november

2012
Pillars of the Earth

44 ongelezen

/ 44

Oryphany

,

september

2012
Overstock Sale at University of Notre Dame Press

12 ongelezen

/ 12

Thulean

,

augustus

2012
Kalamazoo 2012

20 ongelezen

/ 20

dkathman

,

mei

2012
Hildegard of Bingen to be named Doctor of the Church

5 ongelezen

/ 5

KayEluned

,

april

2012
Top 3-5 Medieval Europe Books published since 2000

17 ongelezen

/ 17

cemanuel

,

januari

2012
Query to search for books and excerpts

1 ongelezen

/ 1

savi_22

,

november

2011
Looking for Title / Author

11 ongelezen

/ 11

GColdham

,

november

2011
The Normans

12 ongelezen

/ 12

erilarlo

,

november

2011
14th century reading list?

34 ongelezen

/ 34

nathanielcampbell

,

oktober

2011
Medieval History Books of Note

32 ongelezen

/ 32

cemanuel

,

oktober

2011
Millenium

5 ongelezen

/ 5

cemanuel

,

juli

2011
Northern and Eastern Europe, Christianization and Pagan holdovers

3 ongelezen

/ 3

nathanielcampbell

,

juni

2011
Medieval business studies?

3 ongelezen

/ 3

danieljl

,

juni

2011
Anyone Going to Kalamazoo? (2010 Verson)

34 ongelezen

/ 34

cemanuel

,

juni

2011
Medieval Spain

14 ongelezen

/ 14

msjohns615

,

april

2011
Favorite Medieval Book

86 ongelezen

/ 86

Stbalbach

,

maart

2011
Textiles and the Cloth Trade

12 ongelezen

/ 12

erilarlo

,

februari

2011
Help me find every single medieval/Renaissance novel!

11 ongelezen

/ 11

Buecherbaer

,

februari

2011
The black death

15 ongelezen

/ 15

Buecherbaer

,

februari

2011
Books on every day life in the medieval world

77 ongelezen

/ 77

AnalogPeriphery

,

augustus

2010
Animals, Myth and Folklore in Europe

7 ongelezen

/ 7

ElenaGwynne

,

mei

2010
John Boswell's The Kindness Of Strangers

6 ongelezen

/ 6

cemanuel

,

mei

2010
Anybody going to Kalamazoo?

56 ongelezen

/ 56

dkathman

,

februari

2010
Film about the first crusade?

5 ongelezen

/ 5

Nickelini

,

januari

2010
Medieval Studies Websites

11 ongelezen

/ 11

cemanuel

,

januari

2010
How do You Select Your Books?

14 ongelezen

/ 14

erilarlo

,

december

2009
A book about how people dealt with night time

9 ongelezen

/ 9

arekirch

,

december

2009
The Fall of the West

11 ongelezen

/ 11

ThePam

,

oktober

2009
Northern European Paganism

29 ongelezen

/ 29

cemanuel

,

oktober

2009
Katherine Swynford

1 ongelezen

/ 1

sfelber

,

oktober

2009
Help Please with a Book Suggestion...

48 ongelezen

/ 48

cemanuel

,

oktober

2009
History Sources Group

2 ongelezen

/ 2

timspalding

,

september

2009
Out of the Flames

3 ongelezen

/ 3

Mr.Durick

,

augustus

2009
Maps of Medieval Europe & the Lands Adjoining

1 ongelezen

/ 1

AurelArkad

,

juli

2009
Suggestions for Medieval Language books

15 ongelezen

/ 15

Sectori

,

juli

2009
magyar history

7 ongelezen

/ 7

kalexa

,

juli

2009
Book(s) on post Conquest England?

17 ongelezen

/ 17

dkathman

,

juni

2009
Recommendations for Henry I

2 ongelezen

/ 2

dkathman

,

juni

2009
Medieval books you've read lately that others might like

14 ongelezen

/ 14

erilarlo

,

juni

2009
medieval art and copyrights

10 ongelezen

/ 10

Nicole_VanK

,

juni

2009
Invitation to join our upcoming Book Read - Medieval Mystery Book!

17 ongelezen

/ 17

misselainey

,

juni

2009
Vikings

22 ongelezen

/ 22

MikeCulpepper

,

mei

2009
Medieval Action and Adventure For Free!

3 ongelezen

/ 3

gwernin

,

april

2009
Medieval art history?

34 ongelezen

/ 34

Genni

,

april

2009
medieval europe fiction recommendations

75 ongelezen

/ 75

maggieanton

,

april

2009
The Book of Margery Kempe

3 ongelezen

/ 3

janeajones

,

maart

2009
Christopher Tyerman's Fighting For Christendom

3 ongelezen

/ 3

Makifat

,

februari

2009
Daniel Boorstin and Jacques Barzun

4 ongelezen

/ 4

jjskye

,

februari

2009
Religious Relics

19 ongelezen

/ 19

jjskye

,

februari

2009
The Medieval World ed. by Peter Linehan and Janet Nelson

4 ongelezen

/ 4

erilarlo

,

januari

2009
The Book of the Craft of Dying

4 ongelezen

/ 4

PhilOPosia

,

januari

2009
Reading European books in different languages

5 ongelezen

/ 5

sqdancer

,

januari

2009
Backman's book Worlds of Medieval Europe

2 ongelezen

/ 2

Gwendydd

,

januari

2009
Primary Sources

39 ongelezen

/ 39

agorelik

,

november

2008
Top 10's

13 ongelezen

/ 13

AmanteLibros

,

oktober

2008
This is a feature balloon