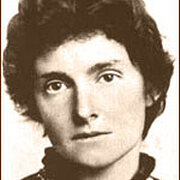 Algemene kennis
Gangbare naam

Officiële naam

Pseudoniemen en naamsvarianten

Geboortedatum

Overlijdensdatum

Graflocatie

Geslacht

Nationaliteit

Land (voor op de kaart)

Geboorteplaats

Plaats van overlijden

Woonplaatsen

Well Hall, Eltham, London, England, UK (1899-1921)
London, England, UK
New Romney, Kent, England, UK
France
Germany
Spain (

toon alle

11)
Halstead, Kent, England, UK
Lewisham, London, England, UK
Lee, London, England, UK
Grove Park, London, England, UK
St Mary's Bay, Dymchurch, Kent, UK

Opleiding

Beroepen

Organisaties

Korte biografie

Edith Nesbit was born in London, England. She was educated at home and also attended a boarding school in France. In 1880, at age 19, she married Hubert Bland, a journalist and economist, with whom she had five children. The couple were both socialists and became co-founders of the Fabian Society in 1884. They published a couple of works together as Fabian Bland. After Bland's death, Edith remarried in 1917 to Thomas Terry Tucker, a marine engineer. Under the name E. Nesbit, she wrote and collaborated on more than 60 books of children's literature, including novels, collections of short stories, plays, poetry, and picture books. Among her best-known books are The Railway Children (1906), which has been adaptated into films several times; The Story of the Treasure Seekers (1898); and The Wouldbegoods (1899).
Statistieken
Werken

262

Ook door

140

Leden

26,605

Populariteit

#785

Waardering

3.9
Besprekingen

403

ISBNs

1,973

Talen

25

Favoriet

84

Verbindingen

507