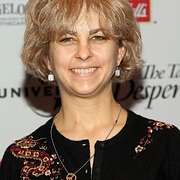 Algemene kennis
Officiële naam

Geboortedatum

Geslacht

Nationaliteit

Geboorteplaats

Woonplaatsen

Opleiding

Beroepen

Prijzen en onderscheidingen

Korte biografie

Kate DiCamillo's writing journey has been a truly remarkable one. She grew up in Florida and moved to Minnesota in her twenties, when homesickness and a bitter winter led her to write Because of Winn-Dixie -- her first published novel, which became a runaway bestseller and snapped up a Newbery Honor. The Tiger Rising, her second novel, was also set in Florida and went on to become a National Book Award finalist. Since then, the best-selling author has explored settings as varied as a medieval castle and a magician's theater while continuing to enjoy great success, winning two Newbery Medals and being named National Ambassador for Young People's Literature. She now has almost 30 million books in print worldwide.

Now, for the first time ever, Kate DiCamillo is returning to the world of a previous novel to tell us more about a character whom her fans already know and love. In Louisiana's Way Home, set two years after the events of National Book Award finalist Raymie Nightingale, she picks up the story of Raymie's friend Louisiana Elefante, who uncovers difficult truths about her past -- and makes choices that will determine her future.

Kate DiCamillo's books' themes of hope and belief amid impossible circumstances and their messages of shared humanity and connectedness have resonated with readers of all ages around the world. In her instant #1 New York Times bestseller The Miraculous Journey of Edward Tulane, a haughty china rabbit undergoes a profound transformation after finding himself face down on the ocean floor -- lost and waiting to be found. The Tale of Despereaux -- the Newbery Medal-winning novel that later inspired an animated adventure from Universal Pictures -- stars a tiny mouse with exceptionally large ears who is driven by love to become an unlikely hero. The Magician's Elephant, an acclaimed and exquisitely paced fable, dares to ask the question What if? And Kate DiCamillo's second Newbery Medal winner, Flora & Ulysses, was released in 2013 to great acclaim, garnering five starred reviews and an instant spot on the New York Times bestseller list.

Born in Philadelphia but raised in the South, Kate DiCamillo now lives in Minneapolis, where she faithfully writes two pages a day, five days a week.
Statistieken
Werken

78

Ook door

7

Leden

65,075

Populariteit

#216

Waardering

4.1
Besprekingen

2,421

ISBNs

946

Talen

21

Favoriet

66

Verbindingen

722