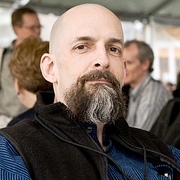 Algemene kennis
Gangbare naam

Officiële naam

Pseudoniemen en naamsvarianten

Geboortedatum

Geslacht

Nationaliteit

Geboorteplaats

Woonplaatsen

Opleiding

Beroepen

Relaties

Organisaties

Prijzen en onderscheidingen

Hugo Award (1996)
Arthur C. Clarke Award (2004)
Science Fiction Chronicle Reader Award (1996)
Prometheus Award (2005)
Locus Award (1996, 2000, 2005, 2009)

Agent

Korte biografie

Neal Town Stephenson (born October 31, 1959) is an American writer known for his works of speculative fiction.

His novels have been categorized as science fiction, historical fiction, cyberpunk, postcyberpunk, and baroque.

Stephenson's work explores subjects such as mathematics, cryptography, linguistics, philosophy, currency, and the history of science. He also writes non-fiction articles about technology in publications such as Wired. He has also written novels with his uncle, George Jewsbury ("J. Frederick George"), under the collective pseudonym Stephen Bury.

Stephenson has worked part-time as an advisor for Blue Origin, a company (founded by Jeff Bezos) developing a spacecraft and a space launch system,[1] and is also a cofounder of Subutai Corporation, whose first offering is the interactive fiction project The Mongoliad. He is currently Magic Leap's Chief Futurist.
Statistieken
Werken

73

Ook door

15

Leden

106,206

Populariteit

#83

Waardering

4.0
Besprekingen

2,484

ISBNs

626

Talen

23

Favoriet

776

Over

1

Verbindingen

1,795